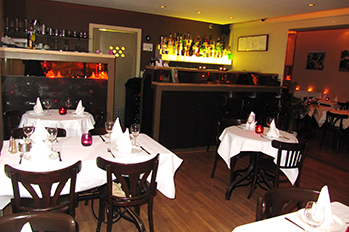 Mazar restaurant in Battersea London has comfortable seating for up to 100 diners in its standard configuration, this can be raised to accommodate 140 by rearranging the seating. There is ample standing room.
Please note that we are able to offer the venue outside of normal opening hours subject to guest numbers.
Examples of functions currently being held by private groups include.
Company Meetings
(with and without catering) Internet access and projection facilities are available.
Weddings
(with catering only) We can provide a completely bespoke service with tailored menus, decoration and entertainment.
Dance/Disco Parties
(mainly standing) Music and sound equipment is available through the inhouse system – customers are free to bring their own.
Social Clubs/Special Interest Groups
We have a number of special interest groups that meet regularly at Mazar. Please call ahead and let us know if you have any specific requirements for yours, e.g. a private area or tailored drinks and food pricing.
Office Parties
We can offer advice on any aspect of office party planning. Please call and ask about bespoke food and drink pricing. We can furnish the space with specific corporate messaging prior to the event.